Homemade Chicken Jerky Recipes For Dogs to Keep Them Healthy
If you have looking for a homemade chicken jerky recipes that's easy, healthy, that your puppy will love, then you need to try this homemade chicken jerky recipes for dogs. Don't have a dehydrator? Don't worry. Today, we'll be using an oven to dry out our chicken strips.
1. Homemade Chicken Jerky Recipe For Dogs
Ingredients:
               Cook Time 2 hr 45 min
– 1 pound of boneless chicken breast
Instructions:
Preheat oven to 250º.
Trim the chicken of all visible fat.
Rinse and pat dry.
Using a cookie sheet with sides, line it with parchment paper.
Place a wire rack onto the cookie sheet (this will allow the air to circulate as the chicken is dehydrating).
Slice the chicken 1/8th inch to 1/4 inch thick.
Place the chicken slices on a rack and cook for 2 hours *(check them after an hour and then every thirty minutes or so. Everyone's oven can vary a little, so after you make them once you can adjust the time as necessary).
Flip them over after 2 hours.
Continue to cook another 45 minutes.
Turn oven off and let them cool in the oven with the door open a little.
Notes:
You can also use this recipe for beef jerky. Just use a lean cut of meat, cut off all visible fat and cook the same as the chicken jerky.
2. Grain-Free Dog Food Recipe: Chicken Jerky Strips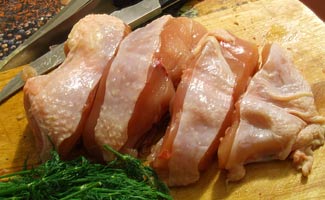 Don't trust store-bought rawhides, which often have a ton of additives and preservatives? Homemade chicken jerky strips are a perfect replacement. This grain-free recipe is a much healthier alternative and very easy to make. Store them in an air-tight container in the fridge for up to two weeks (if they last that long!).
Ingredients
2 to 4 boneless, skinless chicken breasts
Total: Makes approx 10-20 strips
Directions
Preheat oven to 200 degrees
Trim all excess fat off the chicken breasts
Cut into 1/8 inch thick strips using a paring knife
Bake for 2 hours on a baking sheet until the strips are dry and hard
Cool completely before presenting to your pooch.
Recommended reading: 4 Crockpot Dog Food Recipes Your Puppy Will Love
Did you enjoy reading Homemade Chicken Jerky Recipes post? Share it on facebook and pinterest.